Utility Billing
Overview | Feature List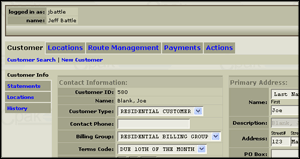 The AdaptToSolve Chameleon Utility Billing Software combines the convenience of web-based functionality with the security and richness of a traditional Client Server application. The solution provides a web-based interface for the features that customers have grown to expect from utility companies including:
On-line access for customer account
Customer service
Payment entry
Users will be able to access the web-based functionality from any computer that has a connection to the internet and that has an installed browser. No additional software would need to be installed.
Areas within the system that require detailed reporting, system configuration, or are used for batch processing are handled in our Client/Server application. It is important to note that the above web-based functionality can also be access from within the Client/Server application. Connectivity between the clients (web-based and Client/Server) and the database server is achieved by using the TCP/IP communication protocol.