Digital Surveillance
Features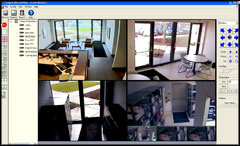 Digitally Recorded, No More VCR tapes to worry over.
Customized recording lets you easily set your recording schedule and recording method.
Motion activated cameras save hard drive space while never missing an event.
Massive Storage allows for almost unlimited hard-drive storage of images.
Unlimited cameras per unit offering you the flexibility to select a system right for you.
The PTZ option accommodates many popular PTZ cameras on the market today.
Retrieval of stored images in seconds offers unparalleled convenience while reviewing stored images.
Review live or recorded images over LAN or Internet connections with complete privacy assured.
Included DVD+-R offers the ability to store authenticated images on DVD+-R for offsite documentation of recorded events or a means to maintain historical data.
AdaptToSolve offers complete project management from design to installation of digital CCTV.