Digital Surveillance
Business Surveillance
Digital surveillance is a perfect fit for almost any business including:
Convenience Stores
Liquor Stores
Department Stores
Gas Stations
Shopping Malls
Hardware Stores
Gun Shops
Pawn Shops
Thrift Stores
Car Dealerships
Mechanics
Dry Cleaners

Check Cashing
Apartment Complexes
Property Management
Pharmacies
Hostpitals
Nursing Homes
Financial Institutions
Day Care
Parking Lots
Construction Sites
Warehouses
Factories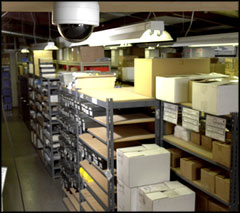 Security for today's work environment has several facets to be considered to completely monitor and manage your assets. One of the first lines of defense would be surveillance of your facility. AdaptToSolve now offers one the most complete and comprehensive packages offered in digital surveillance.
Contact us to schedule an evaluation of your facility by one of our trained security specialist.
AdaptToSolve offers complete project management from design to installation of digital CCTV.